Hi all,
Just joined this forum and this is my first post. Its also my first brisket cook. Got a small Cape Grim packer from Sardes in QVM last weekend. I was so excited and couldnt wait for this weekend to do the cook.
Did my homework on how to do it in a weber kettle. Decided to go with the snake method. Started on friday night around 11pm. Arranged the beads 3/4 round the fuel grates. Stuck a water pan on the fuel grate that also acted as a drip tray.
Trimmed up and dusted salt and pepper on the brisket ala aaron franklin. Stuck it in the kettle when temp was at 244f. Temp dropped as the meat was still very cold and stuck under 220f for a couple of hours. Went to bed. Both vents fully opened.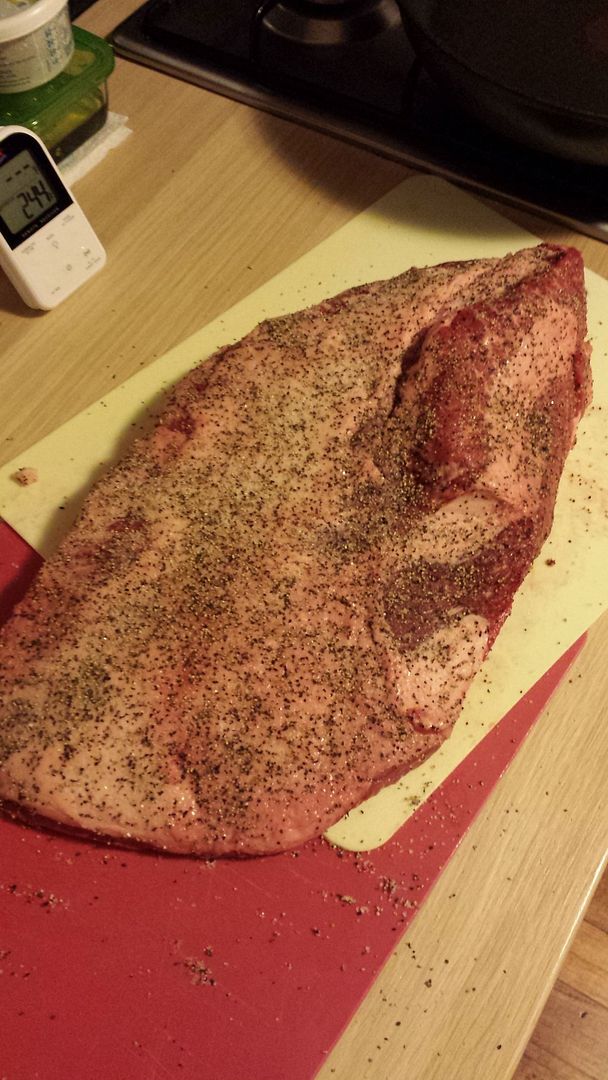 4:45am woke up to see maverick showing kettle at 240f and brisket was at 156f, have read that that it was time to foil if i wanted to do the texas crutch. Had a peek at the meat and the colour wasn't where i expected it to be yet, so decided to let it go naked for another couple hours. Closed the bottom vent to about 2/3 as i was trying to cook all the way at 225f.
6:30am meat temp was at 170f, decided to foil it. Temp of the weber was at 230f and slowly dipped to 190f by 8am..opened the bottom vents fully, temp was struggling to get past 210f so fired up a dozen fresh coals to bring the temp back up. Temp climbed back up to 240f steadily and finally pulled the brisket out when it was 200f at around 11am. Chucked it in a cold oven to rest for a couple of hours.
When i finally got to slice it, i was a little disappointed, it wasnt as soft and moist as i'd expected, good flavour though. I figured 2 possibilities: i trimmed too much fat off? Or i foiled it too late? Would appreciate any feedback, thanks and sorry for the longgg post.