After being bit by the low and slow BBQ world I have been lurking the forums and spent many a night salivating in front of youtube researching the methods, recipes and know how so I could pull off a cook of my very own. This is how I tackled it and the resources I used, hopefully for those lurking and not yet cooking it will be a reasonable guide.
The following were some background videos:
The Weber Snake Method Tutorial -
http://youtu.be/XiGRbyg_zeI
How to setup the weber, and how to control the temps
BBQ with Franklin:Pulled Pork -
http://youtu.be/LbzEa_juegs
Really informative BBQ video, I recommend watching all his videos!
Pulled Pork Recipe by the BBQ Pit Boys -
http://youtu.be/owAlv4XT2dQ
Another Pulled Pork Video
I also purchased a Maverick ET732 Thermometer from Chris at UrbanGriller, it was invaluable, given it was my first cook, the temperature prob for the rack temp and internal meat temp gave me the confidence throughout the day that it was all under control. I didn't want to have to do it from feel, touch and experience (I don't have any!).
Beginners Pulled Pork
The Shop
This is the daunting part for me, as it seems many other forum users have had trouble sourcing the best cuts. The piece of meat i was out to shop for was either Pork Shoulder (bone in) or Pork Collar But. I went to the Asian butchers in Northbridge, WA near my work quickly on the way home, they were packing up and I was in no mood to shop around so I picked up two ~1.5kg pieces of Pork Collar Butt for $12.95/kg. I have seen it cheaper but it was fit for purpose so I settled.
Preparation (Night Before)
I tied the pork using this tutorial:
http://youtu.be/rFIwbUBiRSE
I then applied a rub, which is a combination of a number of recipes on the forum that tickled my fancy!
Pork Rub
1 Tablespoon paprika, smokey
1 Tablespoon black pepper, ground
1 Tablespoon salt
1 Tablespoon brown sugar
1 Teaspoon onion powder
1 Teaspoon garlic, granulized
1 Teaspoon cumin
1 Teaspoon Slap Ya Mumma
1 Teaspoon oregano
0.5 Teaspoon cayene pepper
Mixed all the spices in a bowl, transfer to a shaker bottle or empty spice jar for application.
Lather the pork in olive oil, liberally shake pork rub over pork and pat spices into the pork. Roll over the pork and ensure all surface area is caked with spices.
Wrap the pork in cling wrap being sure to leave no air pockets and store in the fridge overnight ready for the cook.
Spritz Mix
1 Part Olive Oil
1 Part Chilli Sauce
2 Part Apple Cider Vinegar.
2 Part Apple Juice
Used this in combination with a water pan to keep the pork moist, spritzing every time I lifted the lid.
Memphis BBQ Sauce - Courtsey of kendoll
I used kendoll's sauce recipe (Memphis BBQ Sauce
http://www.aussiebbq.info/forum/viewtop ... =11&t=6993
), and i was impressed! Nice balance of flavors!
1 cup apple cider vinegar
1 cup ketchup
1/2 cup water
1/4 cup finely chopped onion
2 tablespoons minced garlic
2 tablespoons butter
2 tablespoons molasses
2 tablespoons prepared mustard
2 tablespoons brown sugar
1 tablespoon Worcestershire sauce
1 tablespoon paprika
2 teaspoons dried oregano
2 teaspoons dried thyme
1 teaspoon cumin
1 teaspoon salt
1 teaspoon black pepper
4 drops of Liquid Smoke
Sweat onion and garlic in saucepan with butter until soft. Add remaining ingredients, bring to the boil and simmer for 15 minutes.
BBQ Preparation
Using the minion/horseshoe/snake method in a compact kettle(Tutorial here:
http://youtu.be/XiGRbyg_zeI
). Prepped the bbq the night before, with a snake 4 briquettes in size around ¾ of the kettle. Two flat on the bottom, 1 upright in a falling forward position against the outside of the kettle and 1 on top of the base layer next to the falling lighter briquettes holding it in place. I had done a test burn and with minimal airflow adjustment was able to get it to sit at 125 degrees for 4+ hours whilst the snake burnt which I was happy with.
I also soaked hickory chips in water overnight to ensure they didn't catch fire when i scattered them on the coals.
BBQ Day
The target was a to get the BBQ to 110-130 degrees and maintain for the duration of the cook. Depending how it went i was going to ramp up the temperature at the end, or potentially foil it to speed up the process.
6:10 wakeup.
6:15 meat out of the fridge, start the charcoal chimney
6:40 start the snake with 10 red hot briquettes and a water pan under where i am going to put the pork to catch the drippings. (17 degrees ambient temp)
7:30 up to temp, lid closed, meat on, woodchips scattered.
9:00 46C internal, 108C rack temp, scattered more woodchips.
10:00 62C internal, sitting at 112C rack temp. Spritz & woodchips.
10:30 65C internal, 111C rack temp, entering stall.
11:30 70C internal, 112C rack temp, had to readjust snake as it was forming a gap, Moar chips, moar spritz.
1:00 75C internal, 110C rack temp.
3:30 81 internal, 120 rack temp
4:00 85 internal 129 rack temp
4:30 89 internal 131 rack temp
4:45 90C internal, pulled off, wrapped in aluminium foil and stored in a cooler bag.
5:00 Prepared the sides!
6:30 Served up with colesaw, bbq sauce, oven roasted duck fat potatoes and white buns.
Progress photos are as follows (apologies for the blur, new camera, left it on manual settings and wasnt paying close attention
):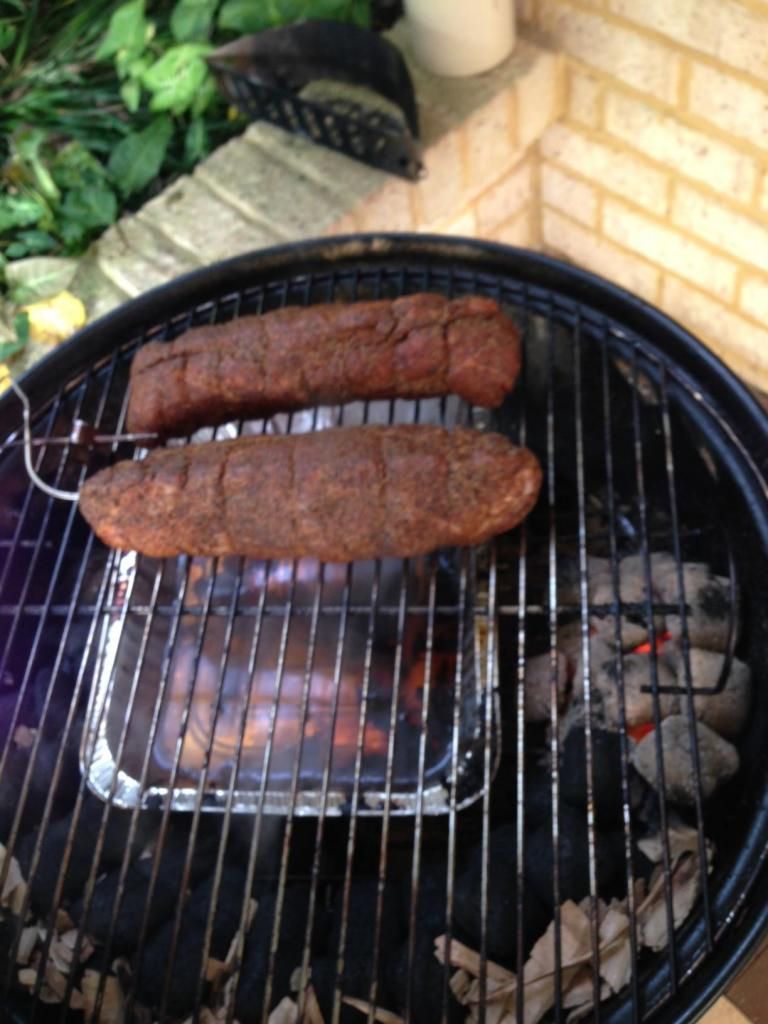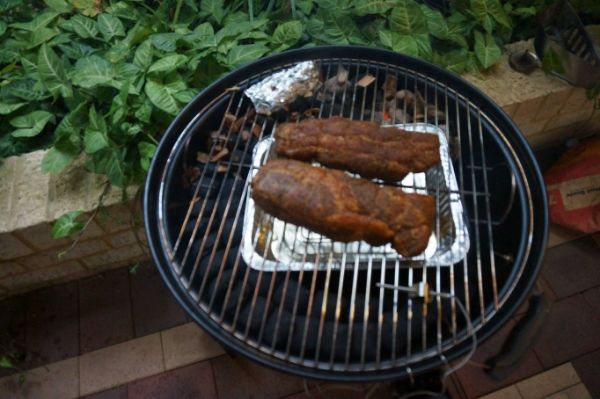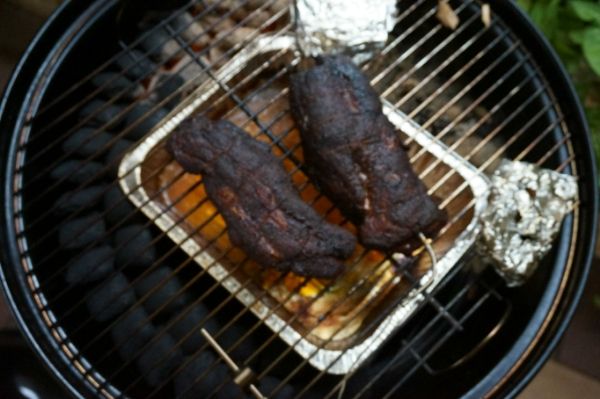 After foiling and wrapping I pulled it just before serving: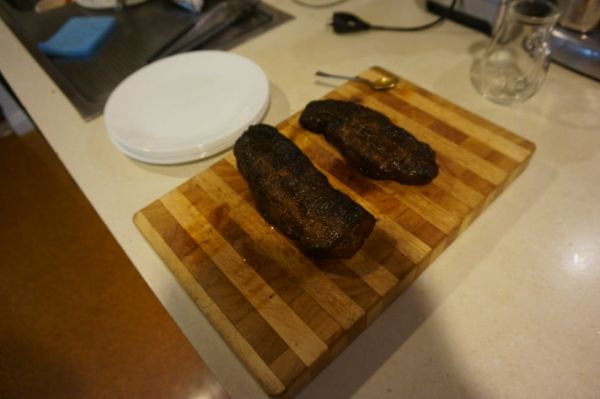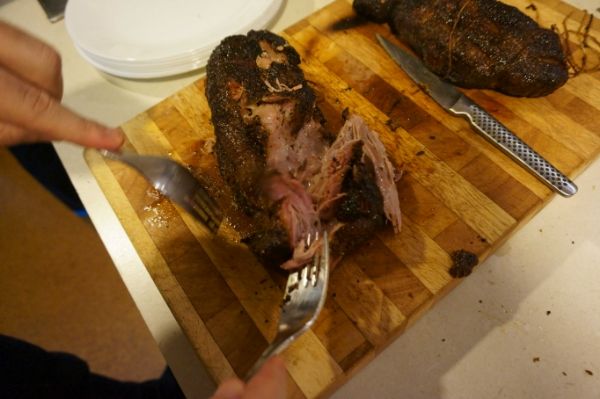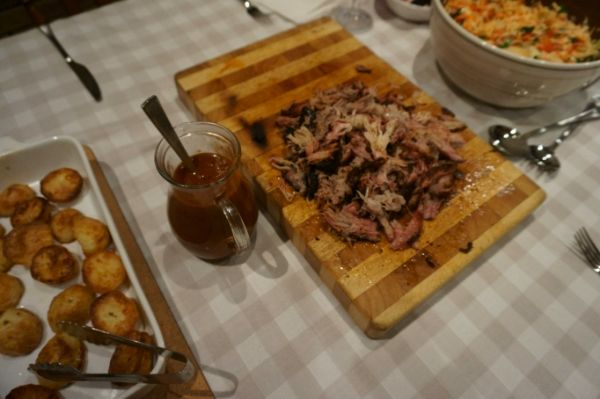 I have since cooked it two other times, improving on my weber temperature skills and sauces. Decided to slightly tweak the sauce and the apple cider content by only adding a little bit at a time until i was happy with the flavor. I also now blend and put the sauce in a squirt bottle for serving.
Brisket is on the hit list next now i have an injector!
Thank you all for the inspiration, recipes and know how, this forum truly is an amazing resource.