Could not find any Gravey recipes here,so how about sharing some.
Cheers.
Titch
Cheers
Titch
---
---
Pan juices +
french onion soup mix
chicken noodle soup mix
corn flour
what ever herbs & spices you like
pizza sauce mix add sml amounts at a time
or just maggi rich sauce mix
let your emagination run wild , its fun
even a tin of crushed toms is good

Daryl
---
Buccaneer
69conroy wrote:Pan juices +
french onion soup mix
chicken noodle soup mix
corn flour
what ever herbs & spices you like
pizza sauce mix add sml amounts at a time
or just maggi rich sauce mix
let your emagination run wild , its fun
even a tin of crushed toms is good

Daryl
Jayzuz Daryl, that isn't a recipe, it is construction or assembly line and not an honourable thing to do to fine roasted feast!
Teasing aside gravy seems to be a huge problem for so many.
Google Beurre Manié recipe.
It is a classic way to thicken juices. Just make sure you cook the flour taste out so follow the yimes stated in the recipe and watch carefully for the colour changes.
(To thicken 500 ml (17 fl oz, 2 cups) stock or sauce, work together 25 g (1 oz, 2 tablespoons) butter and 25 g (1 oz, 4 tablespoons) plain (all-purpose) flour. Add this paste to the boiling liquid and whisk over the heat for 2 minutes.)
Spoon off most of the fat from the top of the juices but not all. Whisk the Beurre Manié in until juice is thickened.
If you cook onions or other veg and want to flavour the gray just mash them up in the juices first.
If you need it sweeter, just whisk in some preserved fruit/jam.
---
Buccaneer
Simple Basic Gravy Recipe:
Pan drippings +1/2 cup good butter+1 cup plain flour.
Melt butter in medium hot frypan and add flour and stir constantly till a nutty golden brown paste forms. Pour cold stock into the pan juices (That you have spooned the fat from) and the drop in temperature will make the remaining fat form globues.
Remove them.
Bring to boil and deglaze the pan,add the paste a bit at a time till the gravy has the consistancy you are looking for.
Season with salt and pepper
Job done.
---
Buccaneer
C'mon mateys, lets see those pictures of success stories on the gravy train!
---
Posts: 933
Joined: Sat Mar 27, 2010 10:04 pm
Location: Baree Central Queensland
Contact:
Beef or Chicken Gravy Recipe my mums
• Around 4 cups of beef stock or Chicken Stock you may not need it all (Home made)
• a couple of teaspoons of vegemite (only in beef gravy) My mums secret
• A good tablespoon of crushed garlic (optional)
• One medium onion finely diced.
• A good heaped tablespoon of tomato paste
• 1/2 a cup red wine for beef or White wine for Chicken (optional)
• 2-3 tablespoons of cornflour
• salt and pepper
• little Parisian Essence
SIDE NOTE:
This beef or chicken gravy recipe is from scratch I use "juice from a roasting pan" available after your roast is cooked
Step 1.
Sweat the finely diced onion in a little olive oil or dripping so that you get some colour on the onions. This will help considerably with the flavour. A nice golden brown is perfect. You can add little Parisian Essence in beef gravy for rich brown coloured gravy
Step 2.
Add your onions to your roasting pan over low heat with juice from a roasting pan plus crushed garlic and cook a little longer. Extra flavour!
Step 3.
Deglaze the pan with the wine and reduce it to half. Meanwhile combine the cornflour with a little stock Set aside
Step 4.
Add the tomato paste and cook for about 3 minutes to cook the paste out. This will thicken the wine. Whisk in the vegemite (only in beef gravy).
Step 5.
Add the cornflour. Add a little stock at a time until you have the amount of gravy you need, You may need more cornflour if you use the whole litre of stock and on how thick you like your gravy. Bring to a simmer for about 3-4 minutes and taste. If floury cook a little longer. Add salt and pepper if needed.
If it is a little lumpy or just not smooth you can use a stab blender and of fine sieve. I like the little meaty bits.
MM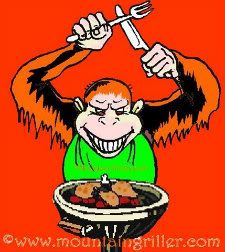 21st century caveman Mountain Mick
www.mountaingriller.com
---
This is how I make gravy.
Roast the meat in its own pan.
when done remove from pan and rest/tent.
Place the same pan with all the oils, juices and brown crunchy bits back on a burner.
Add a few tablespoons of plain flour and very gently stir it around and cook the flour making sure not to burn but looking for a colour change and also a texture change.
Then slowly add boiling water and whisking as I go.
Use the water to clean the pan of all baked on flavour as you wisk.
When consistency is achieved, Decanter to gravy pot to stop it cooking
That is how I do gravy, No sugar, no salt, I do add peper.
---
I somehow doubt gravy is the same here every time but sometimes I get lazy and use Bisto or Gravox but mostly I use the skimmed pan juices, the water from any boiled veg, add as much as needed.
I will recommend Rice Flour in preference to anything from wheat, so much less likely to clump, even better than cornflour.
I also love to add sliced mushrooms, and although in the pan is good my dad taught me years back that in a saucepan makes less mess
(There's an added benefit, cover the saucepan and stick it in the fridge, the base for the next batch - a gravy can be like the immortal broom, just keep adding anew
)
A stab mixer can be useful, especially if you want to start from a fried onion base or mushrooms cooked in butter and add water, thicken then play with flavour, whomever said it, I agree, Vegemite can be magic
My kids like REALLY thick gravy, but some don't, so, split a thick concoction and carefully dilute one, spirits, especially bourbon or brandy with some veg water is a good way
Gravy's are an endless parade, sometimes they get exotic and are more a defining sauce, but a simple gravy, so long as not bland is perfect for a casual meal, especially with potatoes
(I'm part Irish, sue me
)
It's part of the process really, and about making best use of food, we always make our own stock, just collect veg trimming for a week or so, plastic bag in the fridge, add a chicken carcass or two, and into the slow cooker for 24 hours or more. Strain and store in the fridge.
In those veg trimmings, do not throw out onion skins, they add wonderful colour and flavour
Cheers
---
I always roast some garlic and golden shallots with my veg in the same pan as the meat. Leave a couple of garlic bulbs behind and any sticky veggie bits, add plain flour to pan and cook out the flour, deglase with wine white or red depending on the meat, add resting juices, reduce and season to taste. I'll add stock if I need to stretch it out but I try to avoid using to much.
---
---
Who is online
Users browsing this forum: No registered users and 2 guests