This cook was done on my Cobb Premier Grill and is probably the best burger that I have ever tasted. You'll want to throw rocks at a standard hamburger after trying this one.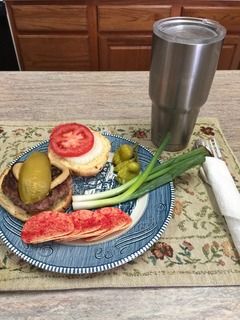 I like my pork burger on an onion bun and then dressed with a slice of onion, a tomato slice, a pickle slice, and some deli mustard.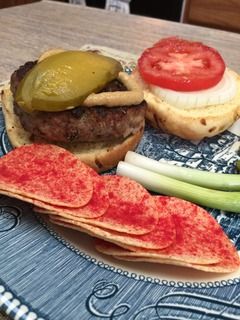 I don't like to cut back much on the meat so I made my pork burgers into 6 oz. patties for this treat. Makes a fine sandwich with this much meat.
The Ingredients for my Porkburgers:
2 pork butts weighing about 16-1/4 pound total
4 pkgs of Lipton dry onion soup
2 cups of finely chopped onions
10 cloves of garlic thru my Suzy
4 TBL dried basil
3 TBL pork rub
2 TBL butcher cut black pepper
3/4 cup Worcestershire sauce
2 tsp ground cayenne pepper (optional)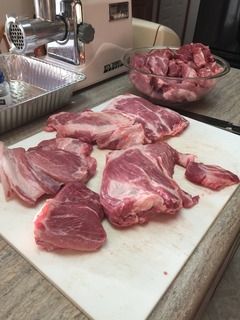 I cut the fat cap off of my butts and deboned them and then sliced them up into pieces that will fit my grinder.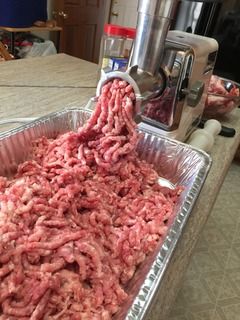 Put the meat thru the grinder.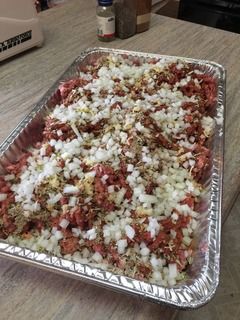 Added all my spices and veggies and then mixed it all up and covered it and placed it into the fridge for about 24 hours so my burger would have some time to meld together before I cooked or processed it.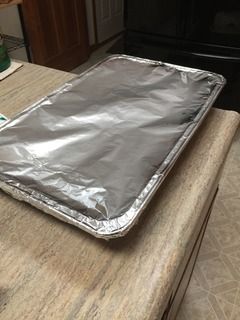 Coming out of the fridge on cooking day.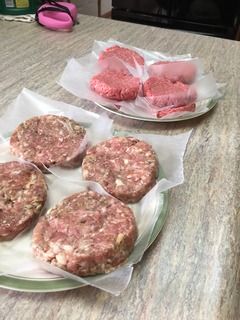 I made up four 6 oz pork patties along with eight 1/4 pound beef burgers for this cook.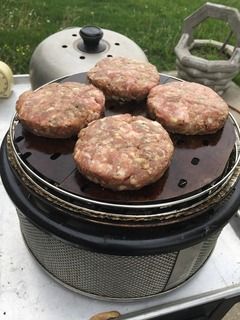 I used the larger charcoal basket out of the Cobb BBQ Kit and filled it with 19 hot all hardwood briquets out of a charcoal chimney for this cook. I needed enough time and heat for 3 rounds of burger cooking.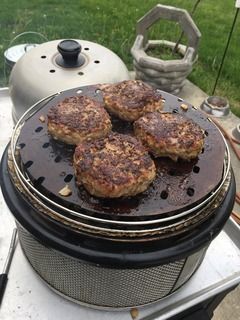 I cooked the porkburgers on the back side of my Grill Grates and used a temperature of about 550F degrees measured on the surface of the Grill Grates. These big 6 oz burgers took about 12 minutes to cook.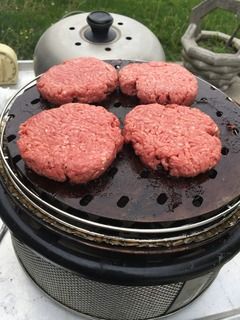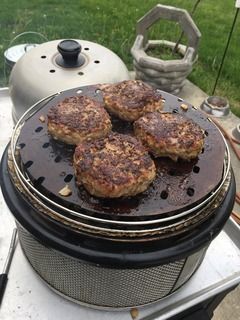 Along with the Porkburgers, I did some 1/4 pound beef slider burgers on this cook.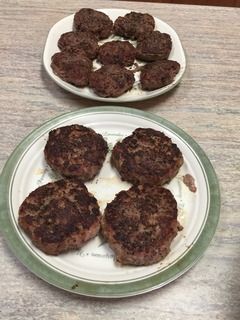 Both of the finished burgers just off of the Cobb Premier grill.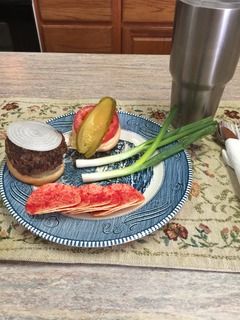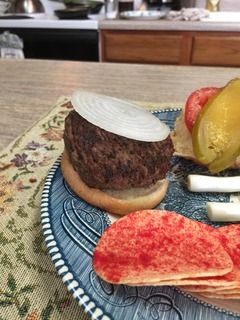 This big one inch thick 1/4 pound slider is a great sandwich but just doesn't compare to the porkburger.