This cook was done on my Cobb Supreme using my two new proto-type dome extensions from the good folks at Cobb International and my new raised second cooking grid setup.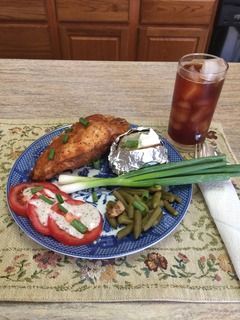 My meal was this blazing hot Buffalo chicken breast with one of the baked potatoes, green beans, and some salad stuff.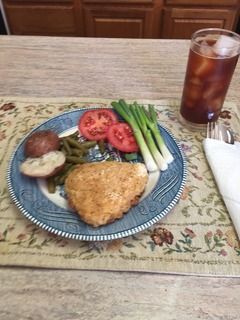 The Wife's meal was one of the spicy breaded and crunchy chicken thighs. Served with some new potatoes and green beans and some salad stuff.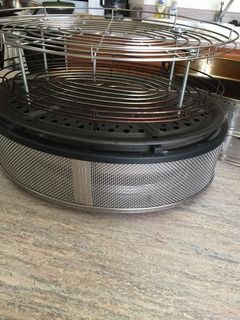 I built this second raised grid with an additional Supreme roasting rack, some carriage bolts, fender washers, lock washers and nuts.
This will work for large pieces of meat like maybe a pork butt at about 9 pounds on the bottom layer and then another pork butt or maybe a brisket on the top layer. I can see in excess of 20 pounds in one cook on the Supreme with this new setup.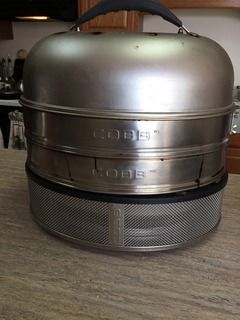 The cooker assembled and ready to be carried out to my cooking patio.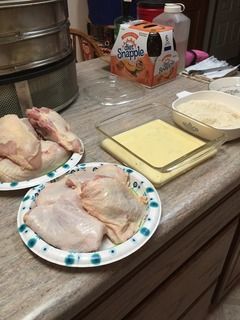 The first job was to trim the meat. For the breading, I made an egg wash with eggs and milk, and then made up my breading using flour, cornmeal, onion powder, garlic powder, black pepper, white pepper, and some cayenne pepper.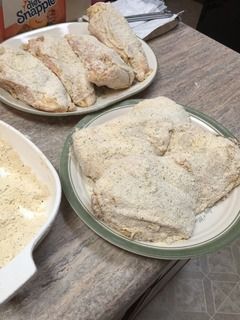 After the chicken was breaded, I placed it into the fridge for about 90 minutes to help set the breading on the chicken. Total weight of this cook was slightly over 8 pounds.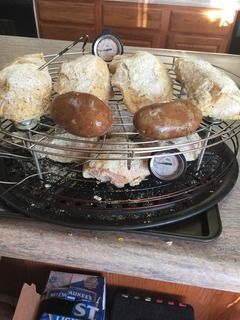 As with all my setups, I like to be able to load them all up in the kitchen and then carry them out to my hot cooker. I have some extra thermometers on this cook as it was my first cook with the setup and need to know what to expect with the two layer cooking.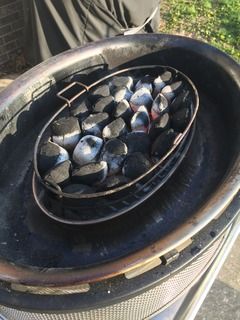 I used a full load of all hardwood briquets for this cook. I also added 7-8 more briquets during the cook. Total cooking time was a little over two hours.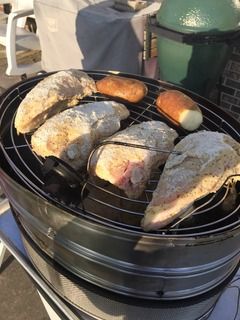 Food just going on my hot Cobb Supreme.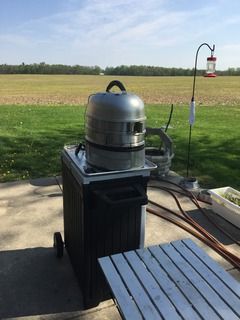 Just one beautiful morning for cooking outside with the ambient at about 55F degrees and the sun a shining.
At 55 minutes into the cook, the thighs which were on the bottom layer were done and removed from the cooker. I removed the top grid and finished up my Buffalo breasts on the bottom layer in a pan to make for easy cleanup. At this point, they were glazed with a super hot and spicy sauce that had much more cayenne pepper in it.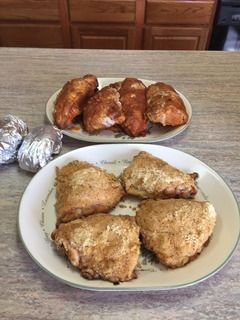 Just off of the Cobb Supreme. The large breasts averaged about 1.30 pounds each and the thighs averaged 3/4 pound each.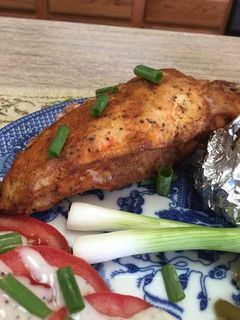 This was the largest breast half and it weighed about a pound and a half. Way too much to eat at one meal but I did the best I could!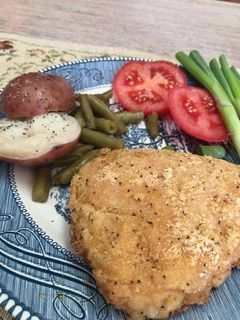 Anxious to try the thighs I made for the wife..sure looks good.