I "cobbed" together a rotisserie setup using my two new Cobb Proto-Type Dome Extensions and some rotisserie parts that I use for other cookers and did my first rotisserie cook consisting of a Beef Bottom Round Roast over a pan of Root Vegetables on my Cobb Supreme.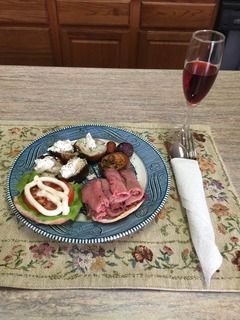 I made a roast beef sandwich with a generous amount of the bottom round roast beef, lettuce, tomato, and some horsey sauce on a bun. My sides were a few pieces of my baked new red potatoes, sweet potatoes, carrots, and some pearl onions. Added some sour cream to the potatoes.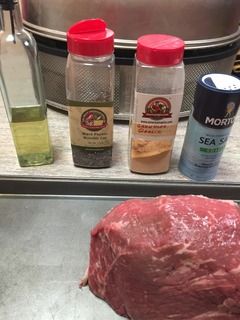 I prepped my 3.92 pound bottom round roast by trimming off most of the fat. Added a little olive oil for a sticker and then sprinkled on some SPG for my rub.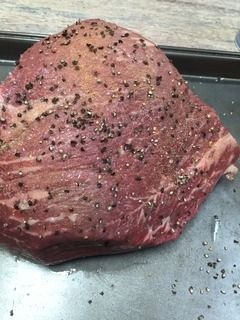 Ready to go on the rotisserie spit rod.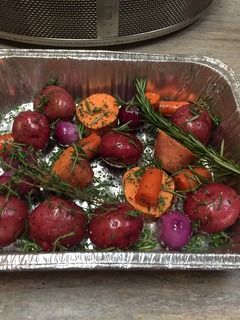 My root veggies were some new red potatoes, some sweet potatoes, carrots, and some pearl onions. I salted and peppered the veggies and added a little garlic, some fresh rosemary and thyme.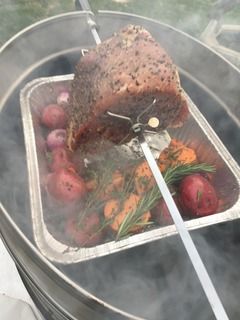 My cook just going on the Cobb Supreme with a rotisserie setup.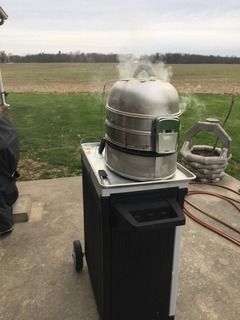 I used both of my proto-type dome grid extenders for this cook. Along with my heavy duty rotisserie setup, I have a nice cooker for all my rotisserie cooks.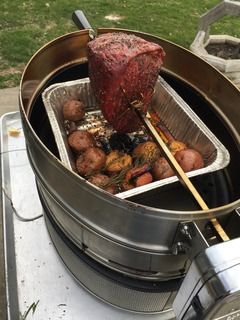 My cook is done and ready to be removed from the Cobb Supreme. It took a little under two hours and I took the meat off at 130F degrees internal.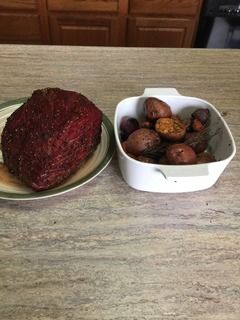 My roast beef and veggies just off of the cooker.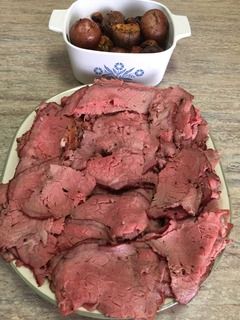 My roast beef just thru the slicer.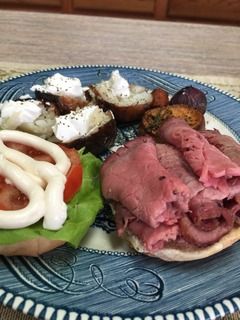 Made a nice lunch.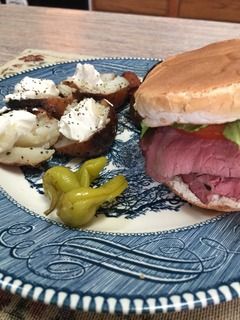 Love the potatoes fixed this way.
I think the first rotisserie cook on the Cobb Supreme came out quite well and will make for some additional tasty meals. Beef Manhattan is up next.