I did another cook on my larger Cobb Supreme using one of my new Dome Extensions that I had made by the good folks at the Cobb Company and it came out quite well. The Dome Extensions allow me about 2-1/2 more height inches of usable cooking space which is needed for the many items that I wish to cook on this grill and this whole turkey being one of them.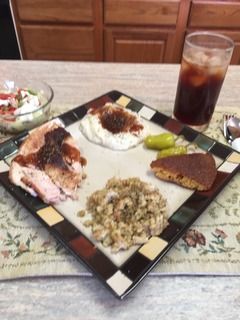 I served my Creole Butter injected turkey with some stuffing, mashed potatoes and gravy, a tossed salad, and a slice of skillet cornbread.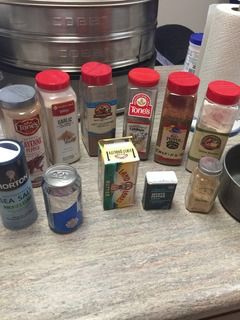 Scottie's Creole Butter Injection
1 can beer of choice
1 pound butter
1 tablespoon Big Time BBQ Rub (or your favorite rub)
1 tablespoon paprika
1 tablespoon freshly ground white pepper
1 tablespoon sea salt
1 tablespoon garlic powder
1 tablespoon onion powder
1 tablespoon dry mustard
1 tablespoon freshly and finely ground black pepper
1 teaspoon cayenne
Melt the butter in saucepan and add the beer and spices. Mix well. Let cool, then inject.
Yield: About 2 1/2 cupsHeat Scale: Medium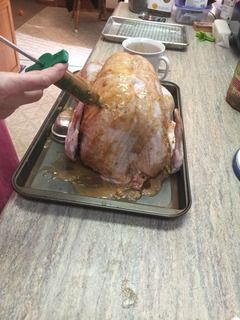 We injected about two cups into this 13 pound turkey.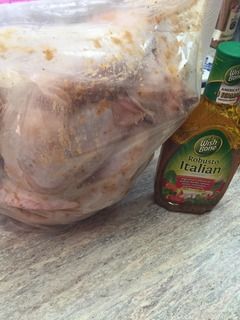 The injected turkey was placed into a 2-1/2 gallon freezer bag and I poured a full bottle of Wishbone Robusto salad dressing over the top. Then it went into the fridge for an overnight stay to marry up all the flavors.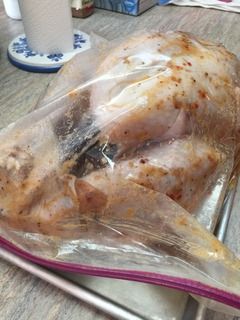 I turned the bag over a few times during this overnight stay and pulled it out of the fridge early this morning for my cook.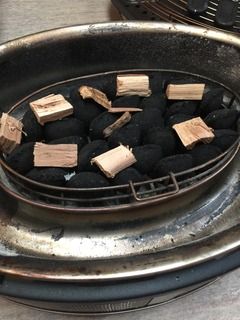 I maxed out the Supreme's charcoal basket with about 25 all hardwood charcoal briquets, and then added some hickory chunks for this cook.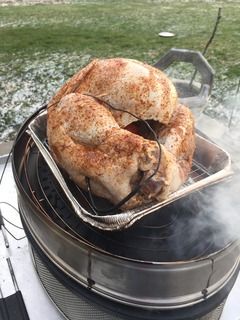 I rubbed the chicken with my favorite poultry rub and placed the turkey on the Cobb Supreme using one of my proto-type dome extensions. This gave me enough clearance for this big piece of meat.
Cold morning at about 26F degrees and some light snow and a lot of wind.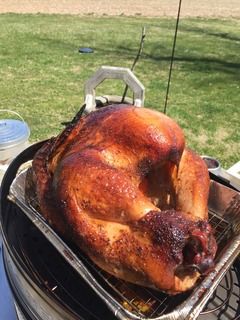 Later into the cook and just before I mopped it with my Roadside Chicken Sauce.
Total cook time was a little under 5 hours and I did add charcoal three times as it was cold and windy.
I ran a temperature of about 235-270F degrees during the cook.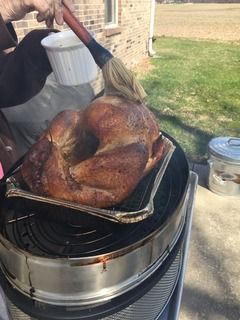 First mop with the Roadside Sauce.
If you like the chicken from the roadside chicken stands then you'll like this. I've been making this for about 15 years now and it's pretty darn good.
ROADSIDE CHICKEN
1 cup white vinegar
1/2 cup veg oil
1/4 cup worcestershire sauce
1 TBS Sea or Kosher salt
1 TBS white sugar
1 tsp garlic powder
1 tsp onion powder
1 tsp white pepper
1/2 tsp celery salt
Mix/shake till well dissolved. I put mine in a old worcestershire bottle with the shaker top. You can marinate the chicken in the sauce for up to 2-8 hrs before cooking. If so discard marinade and make fresh for the cooking sauce. I apply the sauce every 5 min to both sides and turn every 5-10 min. Apply one final coating 5 min before removing from the grill. You can't put too much sauce on while grilling. It will build up a nice layer of flavors. I use the kettle but i think it would do well on the WSM (Larry used it) with no water pan and a high heat cook. I usally add one small piece of apple wood while grilling also. Hope you like it. Enjoy
EDIT: If you are going to marinate the chicken first, then leave the oil out for the marinade process. Make up a fresh batch for basting the chicken with the oil in the sauce.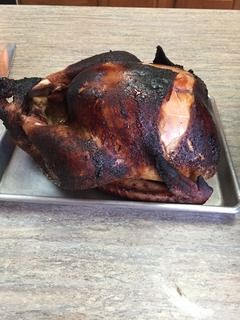 Cooling down on the counter.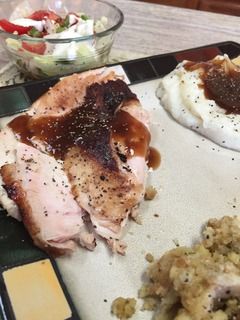 I had to put on a "bib" to eat that juicy breast meat!
Real happy with the cook as everything came out great.