This cook and smoke was done on the Cobb Supreme Grill which is their largest Stainless Steel grill.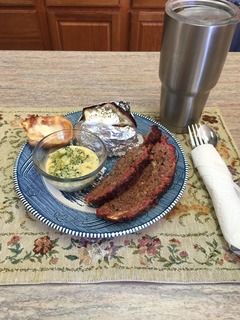 I served the meatloaf and potatoes with some broccoli with cheese sauce and a piece of garlic bun. I even got a pretty nice smoke ring on the meatloaf.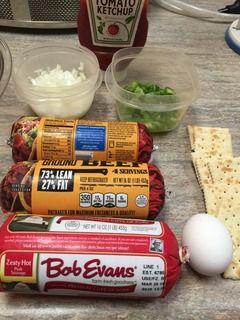 The ingredients for this meatloaf were about 2 pounds of fatty hamburger and a pound of zesty hot pork sausage. To that I added some chopped onions, chopped bell peppers, some crackers, a little catsup and a couple of eggs.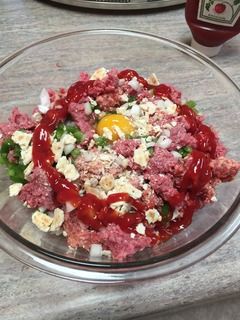 Ready to be mixed up and formed into a loaf.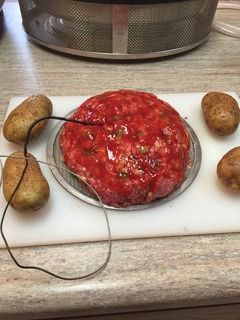 I formed my meatloaf on a pizza screen as I didn't want to use a pan of any kind as I wanted as much smoke to get to the meat as possible. The potatoes were rubbed with peanut oil and I sprinkled on a good rub for some additional flavor.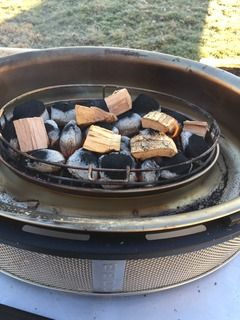 I started with about 18 all hardwood briquets and then added some hickory pieces for my smoke wood. I do like smoke flavor on my meatloaf.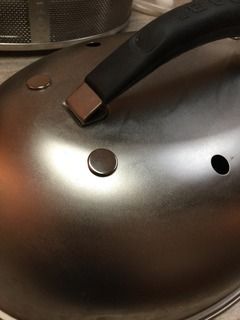 I planned to operate the cooker at about 225-250F degrees so I blocked off 4 of the exhaust holes to make it easy to control the cooker where I wanted it. It operated like a dream although I did have to add 7 more briquets to get the cook done.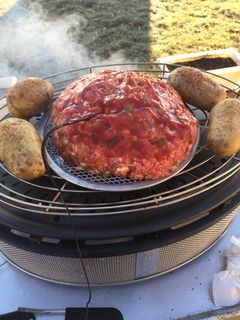 My cook going on the cooker..notice all the smoke.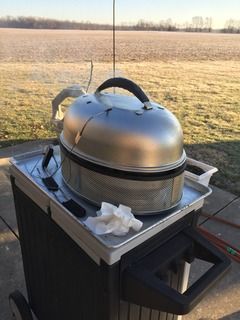 Was a cool morning with the ambient temperature at about 28F degrees. Just a great morning to do a cook.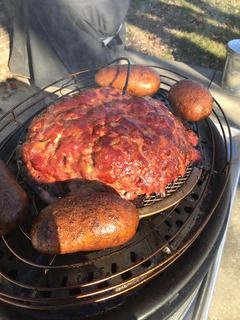 Ready to come off of my Cobb Supreme. I took the meatloaf to 165F internal and pulled it off of the cooker. The cook took about 1 hour and 45 minutes and I ran a temperature of about 215F to about 265F during the cook.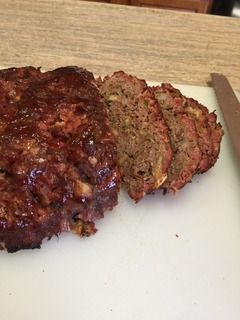 The first few slices off of my 3 pound meatloaf.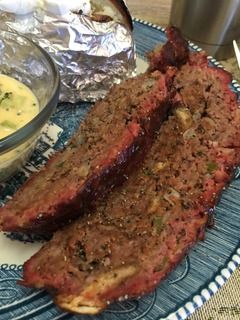 I think that is a nice looking slice of meatloaf.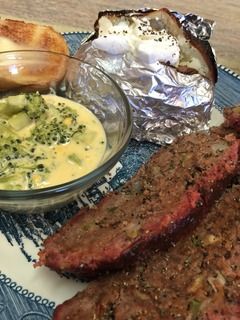 Sure made a nice lunch.