I did this jerky cook early yesterday morning and it came out quite well. It was also my first try making jerky out of ground meat.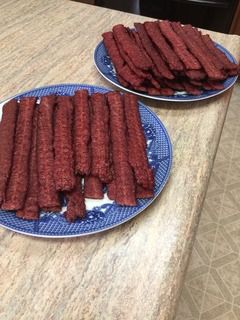 I did 5 pounds of the ground sirloin (90%) lean for this batch. It took 3-2/3rd trays on the BR6 Ultimate Six Rack setup from Earthworks.
I had 3 trays of the standard mix and cure that came with the LEM Jerky Cannon and one tray of which I added a big sprinkle of cayenne pepper.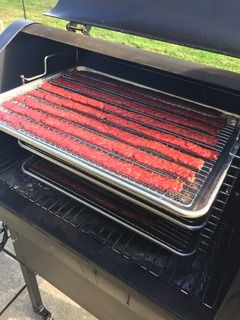 I turned and rotated the trays every hour and the total cooking time was 3 hr and 45 minutes.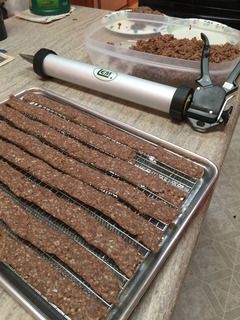 My LEM Jerky Cannon worked great for this treat and made quick work out of 5 pounds of ground sirloin.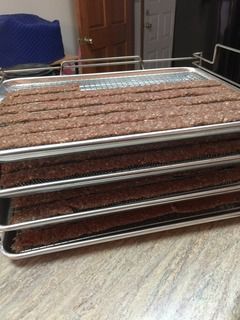 Ready to be carried out and placed on my Green Mountain Daniel Boone cooker. I ran the cooker at 170F degrees through out the whole cook.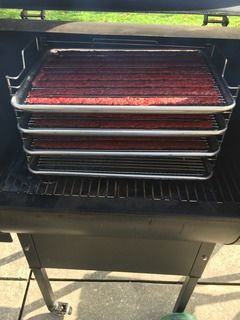 About done on the cooker.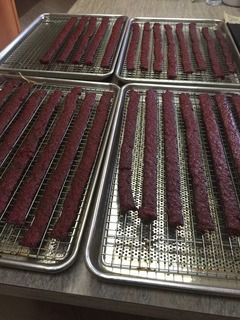 Jerky done and cooling on the counter top.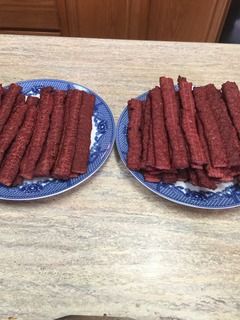 The wife liked this batch and I think it is pretty good but I think it could be improved with more spice and heat.
Next batch will be made out of sliced top round.