I purchased this Green Mountain wood fired pizza oven a few weeks ago when they were on sale and finally got it installed in my Daniel Boone to try it out. WOW, it is one great accessory. Pizza as high as 850-875 degrees is what it is designed to do. Imagine, a 2 minute pizza!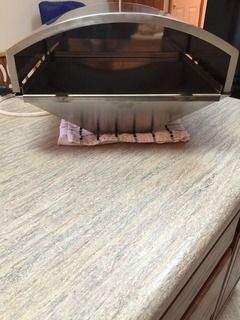 This accessory is all Stainless steel except for the hearth stone and it sure looks like a quality unit. To install it, I just took the grids and drip pans out of the cooker and just dropped it into the Daniel Boone. The unit fits over the fire box in the cooker so all the heat is directed up into the unit.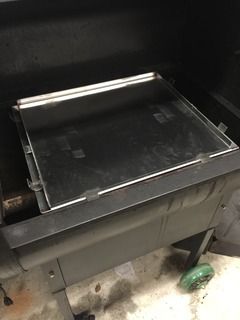 The base of the unit installed in the cooker.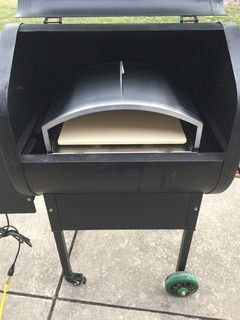 Ready to go in the cooker. The top part just lifts up and off of the unit if needed (for rookies that can't handle a pizza peel) but I found that it wasn't needed for my pizzas. I had plenty of room for using both a wood and metal peel.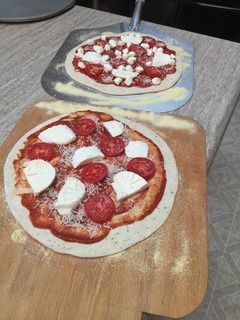 I wanted to start with a couple of simple Pizza Margherita style pies so I didn't have very much on them for my first attempt.
I used some frozen dough I had made up a few weeks ago that was made with 00 flour, a few herbs, and of course, salt, sugar, oil, water, and some yeast. To top the pizza, I started with some sauce, and then some mozzarella cheese, next up some small sliced tomatoes, and then some shredded parmesan cheese. I did the second pizza the same way but also added a few pieces of pepperoni.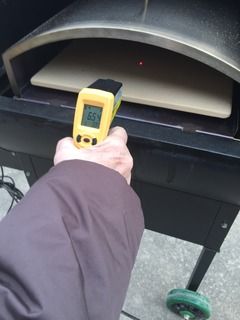 Since this was my first bake on this unit, I decided to use a little lower temperature at around 650-700 degrees for my first attempt. To get this temp, I had to set the cooker at just 275 degrees. It took about 20 minutes to get to temp on this cold 20 degree morning.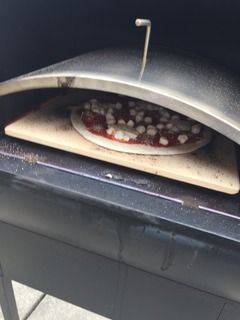 Pizza just loaded into the hot oven.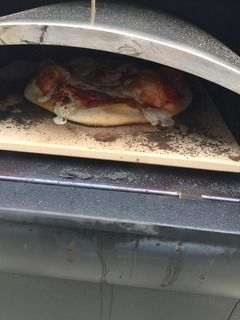 Pizza about done in the oven...note the bubbled up dough. After loading, I let it bake for 2 minutes and turned it about 180 degrees and let it go for 2 more minutes for a total of 4 minutes to complete the pizza.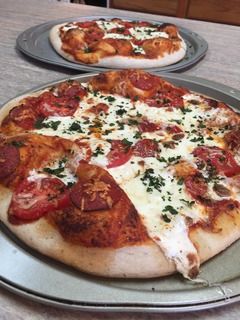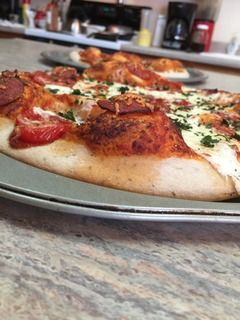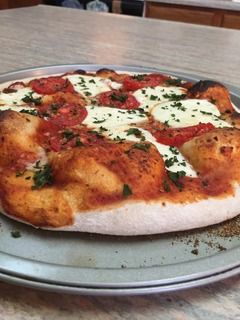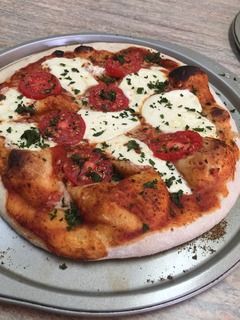 I thought my first effort came out great...love that bubbled up dough and the way everything came out. I added my chopped basil after the pizza was out of the oven. I can hardly wait to try it again at a higher temperature.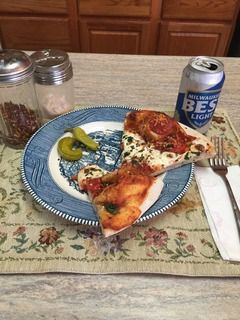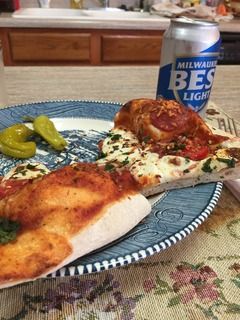 Lunch...
And I paid just over $100 dollars for this unit and I think it is a great value for the folks that own a Green Mountain grill.