Hi Guys,
Thought I would share this one, may be common knowledge to some but there is not a lot on the net regarding these artery hardening goodies.
I grew up in Penrith, NSW. We had a "Lone Star Steakhouse and Saloon" open up and at the time it was freaking awesome. It was a time before "Public Liability" was a phrase Australians knew a lot about, a time whereby when people tripped over they accepted the fact they were a "fumble foot" rather than thinking of who they were going to sue whilst still writhing around on the ground in pain. One thing about Lone Star was the salted peanuts they gave you. As a kid I was gobsmacked as to how they could salt something without breaking open the shell.....and as I got older I less concerned about the salt and more concerned about how well they went with beer. The kicker was that you threw the shells onto the ground, it was what Lone Star was known for...... because the steak would have rated behind Hogs Breath today, and that is saying something.....but the burgers were good. Anyways, in a moment of beer induced searching for an alternative snack, I recalled the salty goodness of these peanuts that are supposedly no more.
Not much on the internet, more so fleeting mentions of them, a lot of debate about how they are cooked(or made) and a few recollections of the Lone Star peanuts is all I could find. Decided to do a bit of experimenting:
Start with:
500g of RAW peanuts in the Shell (These are hard to come by in SA, I get mine from the local Asian shop (before they are steamed for Congee), even Gagani's couldn't help me.
1/2 a cup or so of Salt
8 Cups of water
(Adjust the above if you are doing more)
Nuts to me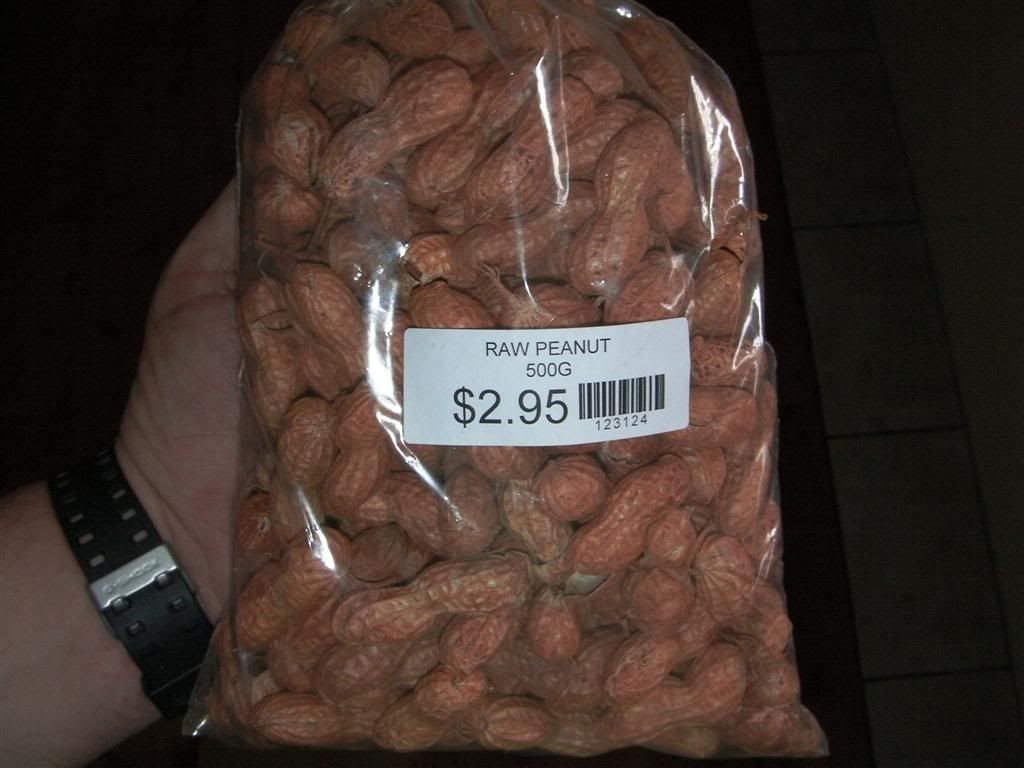 Start by bringing the brine up to boiling and add the peanuts. I weigh mine down. Brine them for 6 Hours or so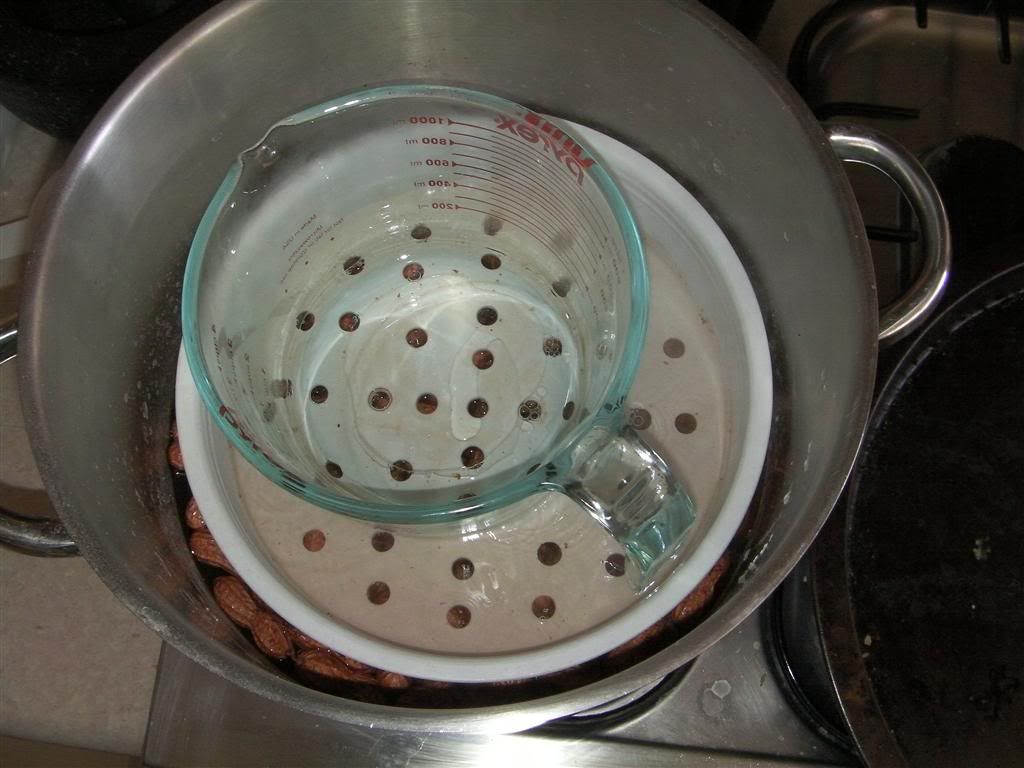 Take them out of the brine and rinse. The time you rinse depends on you, you will be amazed about how much dirt still comes out of them. Granted, they are grown in the ground but when I buy them they *look* pretty clean!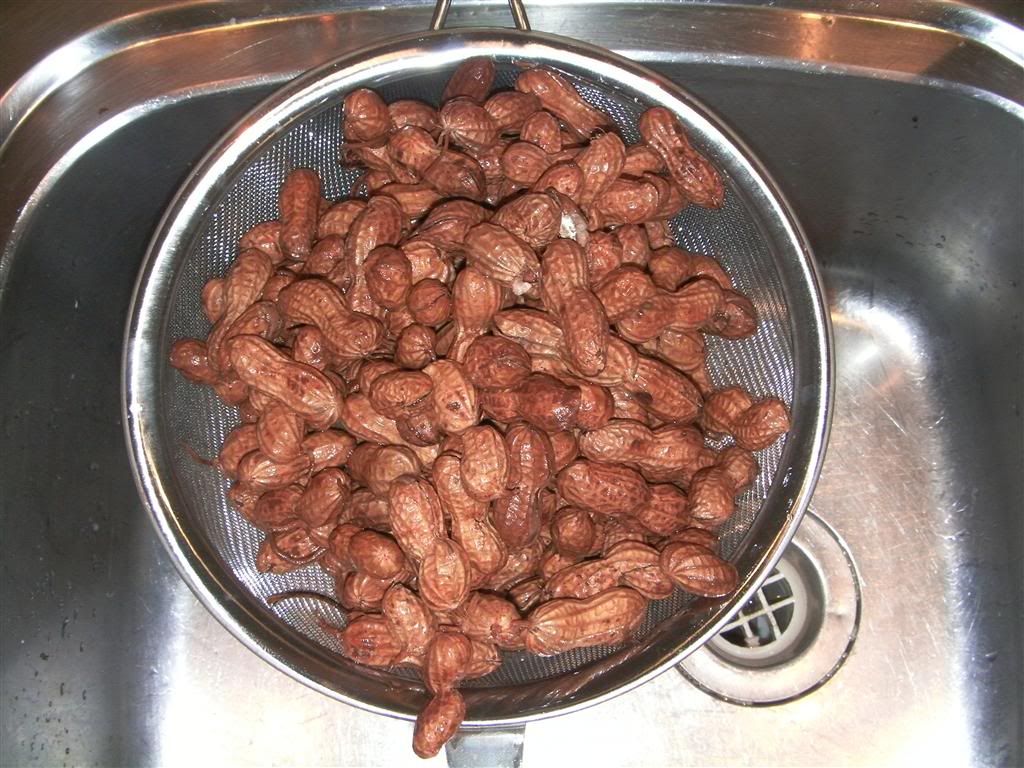 After rinsing I put them in a large drip tray with holes in the bottom. A cooling rack is a far better solution if you have one. This works for me though.....
IMPORTANT: MAKE SURE THAT THEY ARE WELL AND TRULY DRY BEFORE ROASTING. If you have ever had a peanut that has been wet roasted, you know why it is important!
Roast in chosen heat source for 40 - 50 mins. I do mine in my Weber, closing the dampers to 1/2 closed and roast for 2 hours on a lower heat. There is one particular reason I use my Weber, and that is BECAUSE I CAN!
I find it adds a certain something when I take them to work and say I did them in my Weber...... preaching the gospel of charcoal cooking is something I am finding very fulfilling.....and as i said the choice of heat is up to you! I set my weber with charcoal in one basket, for indirect cooking.
Wait until they cool and rip in.
SOMETHING TO TRY: I had a suggestion from one of the guys at work to do a Bourbon roasted nut. Added 150 mls of Bourbon to the above mix and far out they were good. Bloody good.
I find this a rewarding exercise and you can certainly go out and buy peanuts in the shell which are pre roasted if you wish. But, if you time this well, and get them just ready before the *insert sport here* starts, the lads will certainly be bringing ALL the beer next time if you cook "those nuts"
..........Store them in an airtight container if they last long enough.